Fluidizer Blenders
Fluidizer blenders are fairly new on the American industrial scene. While the last 25 years have seen a steady increase in their use, most ribbon blender users are not familiar with them.
These machines look like ribbon blenders from the exterior, but inside they are a large group of fluidizer blades going in all directions. These blades produce a very nice counter-current flow while keeping the material in the blending chamber level. Plus, the blend speed is faster than what's typical of ribbon blenders. If a gentler mixing action is desired, add a Variable Frequency Drive (VFD). This addition allows the fluidizer to handle the product gently like a paddle blender but blend the product much quicker.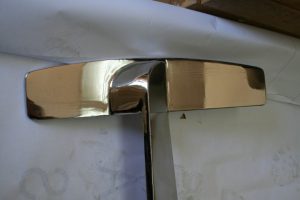 In most applications, fluidizers mixers notably outperform both ribbon blenders and paddle-type blenders. Industrial mixer users simply aren't as aware of them due to their relative recency, and most blender manufacturers do not have the technology and do not make them.
Customers who have tried our industrial fluidizer blenders have been impressed. They cost a little more due to the extra blades, steel, and workmanship required, but the speed and flexibility of the products you can blend are well worth the slight difference in initial cost. Adding a VFD gives them tremendous flexibility with any current or future blending requirements.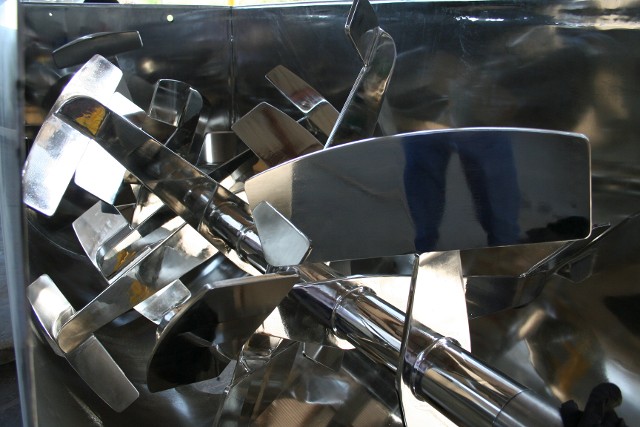 What We Offer
We manufacture a line of fluidizer blenders that runs from a 5 cu. ft. to a 500 cu. ft. Horsepower reaches up to 150 HP. Each machine is sized and constructed based on your product's bulk density and special features, ensuring you get the performance you need. We emphasize high sanitation and safety standards and low maintenance requirements.
Standard Equipment Features
AIM Blending Technologies, Inc. includes more features on its machines as standard and at no extra cost than other manufacturers. We even guarantee in writing that we offer the most machine-for-investment-dollar value of any manufacturer worldwide. Cheaper machines exist, but anyone seeking quality design and construction will see that our fluidizers have more to offer than anything else at a comparable price.
Our standard features include:
Solid construction
Certified sanitary design
Stainless steel backrests
Overlapping seals on lids
Foot plates with mounting brackets
Sanitary safety grates
Hinged safety grates
Stainless steel lid handles
Reinforced pyramid lid design
Permanently engraved safety stickers
Direct drive motors
Sanitary split packing glands
Safety switches on all lids & grates
Safety switch on discharge
Optional Equipment Features Available
Whatever you need, we can make it thanks to our many options and custom features. Our fluidizer blenders come in standard-duty, heavy-duty, and extra-heavy-duty varieties and may be constructed with 316 SS, 304 SS, mild steel, or other types and grades of steel. For the contact surfaces, we offer pharmaceutical-grade, food-grade, or chemical-grade options, as well as low bacteria finish, mirror finish, near-mirror finish, #4, or 2B. Your exterior can have a professional-looking matte finish or a mirror finish as well. Plus, discharges can be a slide gate, butterfly valve, ball valve, or bomb bay doors.
Our other optional and custom features for industrial mixers include:
Holes in lids for overhead hoppers
Lift kits for low overhead applications
Inlet dust collection nipples
Liquid injection systems and tanks
QA sample port in discharge chute
Blender loading platforms or

mezzanines
Stainless or mild steel frames
Pneumatic discharge openers
Leg lengths can be customized
Variable frequency drives for rpm control
Discharge dust collection ports
Magnets custom fitted to discharge
Bulk bag hanging systems
Heating and cooling jackets
End or center bottom discharges
Multiple discharge openings
Contact our sales team

today to discuss your blending challenges, our engineering capabilities, and the extra quality you enjoy when you AIM for the best.